For Trainers
"Restwise gave survivors the permission to take the day off when they needed it and the courage to push themselves hard when they were ready for it." - Trainer who used Restwise in the pilot program at the Health Valley Family YMCA in Boise.

"To be honest, I am perfectly amazed at the degreee of difference between the two groups. I expected there would be differences, but nothing as strong as this." - Dr. Anna Schwarz, the scientist who analyzed the pilot program results.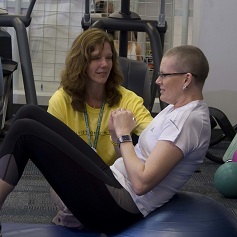 We know Restwise can make a big difference to survivors' outcomes, particularly with the guidance of a qualified trainer. So, we thank you for taking time to learn about it. This page provides resources to help you understand Restwise so you can answer questions from survivors and begin to incorporate its feedback into your programs. We have tried to anticipate your questions, but please do not hesitate to contact us at any time. Here are the steps we recommend you take to learn about Restwise.