Recovery Software
|
Recovery Hardware
|
Purchase FAQs
|
Overseas Resellers
Recovery Software
Service Subscriptions
To try Restwise free for 30 days, subscribe to one of the plans below using your Paypal account, a credit card, or debit card. After the free 30 days, automatic payments will start and continue until you cancel the subscription, which you can do at any time from your PayPal account or by emailing support@restwise.com. (If you cancel during the first 30 days, you will not be charged.)
To see a three-minute video demo of Restwise, click the screen shot below:
Recovery Hardware
The equipment
Restwise software does not require any specific hardware, but some hardware can make it easier to capture and enter some of the Restwise data. The Restwise OLED pulse oximeter (POD) offers a quick, simple and accurate way to measure two Restwise inputs, your resting heart rate and the optional oxygen saturation (SP02) level. [Note: this item is currently back ordered until late June. More up-to-date timing and other options are provided in the checkout process.]
$30 - oximeter only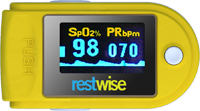 The Withings Pulse O2 captures heart rate, SP02, sleep quality and sleep quantity. Some of these items load automatically into Restwise, and the others will soon. You can buy the Pulse O2 directly from Withings.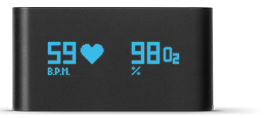 Purchase FAQs
How does your free trial work?
What payment forms do you accept?
What is your warranty policy for the POD?
Do I need the POD?
How do I cancel a subscription once I have started paying for it?
Do you offer volume or team discounts?
Do you have overseas resellers?