Recovery Software
|
Recovery Hardware
|
Purchase FAQs
|
Overseas Resellers
Recovery Software
Service Subscriptions
Recovery Hardware
The equipment
Restwise software does not require any specific hardware, but the Restwise OLED pulse oximeter (POD) offers a quick, simple and accurate way to measure two Restwise inputs, your resting heart rate and oxygen saturation (SP02) level.
$30 - oximeter only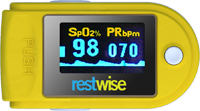 Purchase FAQs
How does your free trial work?
What payment forms do you accept?
What is your warranty policy for the POD?
Do I need the POD?
How do I cancel a subscription once I have started paying for it?
Do you offer volume or team discounts?
Do you have overseas resellers?