Resting, Racing Tips, and Chocolate Chip Cookies
For those of you who haven't seen Team Luna Chix team member Georgia Gould race her mountain bike, you are truly missing out. The current National Champion in Short Track took some time out of her busy World Cup travel schedule to talk to us about her resting, her training, and most importantly her baking skills from her Colorado home. So sit back, drink the morning coffee, and do a mental check of your pantry, because you will probably be pre-heating the oven and getting your bike ready for a ride after this Q&A session!
RW: Where are you now, and what is your next big event?
GG: Right now I am at home (Fort Collins, CO).  My next big race is a World Cup in Offenburg, Germany on May 23rd.
RW: Since beginning using Restwise, how have you noticed differences in your training regimen? No need to give away secrets, but has your training volume changed?
GG: No, my training volume hasn't changed, but I have become much more aware of the factors that affect my recovery.
RW: What other "resting" techniques do you incorporate into your training? Nutrition, massage etc?
GG: I eat a healthy diet- lots of fruits and veggies (but I allow myself treats too- important for mental happiness!).  I try to drink a recovery drink and if possible eat a meal, right after any hard training days or races.  When I am at races I get daily massages, and when I am at home I try to get a few massages a month.  I also try to stay well-hydrated and get plenty of sleep (at least 8hrs a night).  I also have a daily 35minute yoga regimen that I have been doing for the past 6 months or so.  Sometimes it's a pain and I don't feel like it, but I always feel better when I am done, and I've noticed a huge increase in my core strength and flexibility.
RW: What are your goals for this season?
GG: My goal is to win a World Cup race.  I would also like to win the National Championships and the World Championships.  Ok… I want to win every race I enter!
RW: Being part of a large women's team and network of riders, including a impressive list of sponsors, do you feel Restwise is a tool that everyone can take advantage of?
GG: Absolutely.  I think that Restwise is a great tool that offers an objective way for athletes of all levels to gauge recovery.  Elite athletes usually don't have a problem pushing themselves- that's why they are successful- but pushing yourself too hard can be damaging and can result in overtraining and a drop in performance.  Restwise can be an objective voice saying "it's ok to take an easy day."  Untrained athletes, on the other hand, might not be as familiar with the physical and mental effects of training, and Restwise can help them to make sense of what is "normal."  Restwise creates a climate where all users become more aware of the biggest factors that affect their recovery.
RW: I believe your teammate Amy Dombroski is using Restwise as well, have you had a chance to talk about both of your experiences with the software etc?
GG: We've chatted about it briefly. I think we both agree that the system is useful, and most of all EASY:  I have NEVER kept track of my morning heart rate (it always seemed like such a chore), but the Restwise pulse-oximeter is so easy, I've been doing it every day for months now.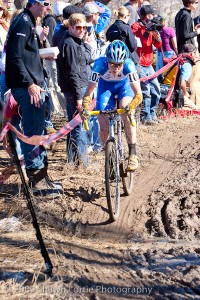 RW: Have you had some fun seeing your rest scores and adapting your training to fit?
GG: Yes.  It's been interesting to see how the scores correlate to how I am feeling.  I have been racing a long time, and I like to think that I am pretty tuned in to how well I am recovering, but the Restwise system has made me more aware of other factors that affect recovery. Mood, energy level, resting heart rate, quality of sleep- these are all factors that affect recovery, and once you start keeping track of these things daily, you begin to see patterns.  Once you know what is "normal" for you, you can quickly spot changes and adjust your training accordingly.
RW: Are you working with a coach? If so how have they reacted to the Restwise knowledge you have gained?
GG: My coach agrees that proper recovery is crucial to becoming a successful athlete.  Restwise is one more tool (in addition to heart rate, power, and good communication) we can use to get the most out of each training session.
RW: For the average racer, say sport level, what would you say are some tips that they can use to reach the elite level? Training time? Equipment?
GG: It sounds simple, but the best advice I have is:
Quality over quantity.
It's not about mileage or hours per-se, it's what you are DOING with your time.  If you have a full time job and a personal life, you need to make the most of your available training time.
Go hard on your hard days and easy on your easy days.
On my easy days, I ride at "sitting-on-the-couch-watching-tv" pace- and I keep it pretty short, no more than 45mins-1hr (unless I am trying to "get the junk out" after a day of travel in which case I might ride for 1.5-2hrs).
Get a coach.
A good one.  Look around, talk to your friends and talk to potential coaches to find out about his/her philosophy and coaching style.  This was the first thing I did when I decided to get my Pro license.  If you are serious about getting to the next level, get a coach.
RW: And what is this about your cookies I hear so much about!?
GG: I can't say they will make you faster, but they will make you happier!
Here's the recipe:
The Best Chocolate Chip Cookies (when only the real deal will do…):
1 3/4 cups flour
1/2 tsp baking soda
14 tbsp (1 3/4 sticks) unsalted butter, room temperature
1/2 cup sugar
3/4 cup packed dark brown sugar
1 tsp vanilla extract
1 egg
1 egg yolk
1 tsp salt
1 1/4 cups semisweet chocolate chips (I use Ghirardelli 60% cacao)
preheat oven to 375, line 2 baking sheets with parchment paper, whisk together flour and baking soda, set aside
melt 10 tbsp butter in a nonstick skillet or saucepan over medium-high heat, and continue to cook until the butter is golden brown and smells delicious and nutty (this step is what makes these cookies so good, so let the butter get good and brown)
pour melted butter into a bowl and add the other 4 tbsp butter
when butter is melted, add both sugars, salt and vanilla  and mix well
add egg and yolk and whisk well for a couple of minutes, making sure there are no lumps and mixture is smooth
stir in flour just until combined, then stir in chocolate chips (don't overmix at this point)
place dough in rounded, 3 tbsp portions on cookie sheets (8 scoops per sheet)
bake sheets one at a time (they will cook more evenly that way) for 10-14 minutes, rotating baking sheet halfway through cooking
cookies should be golden and still puffy and edges have begun to set but centers are still soft, transfer cookies to cooling rack
Try not to eat them all at once.