For most triathletes, the notion of completing an Ironman anywhere, under any conditions, is daunting. The thought of finishing it on Ali'i Drive after conquering the swells, winds, and heat of Kona alongside the world's best triathletes is lifelong dream, with just a sprinkle of worst nightmare. Now imagine breaking the tape in under 9:40 – while battling multiple sclerosis. To inspire you and help you get your head around this incredible feat, we bring you an interview with long-time Restwise user and unsung hero of Kona Chris Ramsey.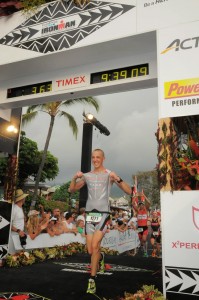 RW: Chris, you've spent most of your life as an endurance athlete in sports ranging from rowing to triathlon. Can you run us through the highlights your athletic career?
CR: That's a difficult question to answer as I have competed in something just about all my life – starting with my first road race at age 2. I suppose it was downhill from there, as going sub-20 minutes at that age was probably my best shot at a world record. Childhood sports revolved primarily around soccer and volleyball, and of course running. I was always chasing my older brother Ian, who to this day owns the 800m school record at Newtown High School.
After graduating in 1991, I rowed at the Univ of Rochester (NY), did my first triathlon the summer of 1992, raced bikes at the Univ of CT, and briefly at the Univ of CO prior to getting fully into triathlon. I wanted to tell my kid(s) that I raced collegiate national championships in something. The Buffalos won their first (of many) titles that year, and I've never looked back: Triathlon became my sport.
While it would be easy to say that my fastest days are the highlights, I think my best days stem from a small mental switch that monumentally affected my satisfaction with racing. Historically, I judged a racing performance on the result of the race (my time / place). If I wasn't where I thought I should be going into the run, I'd unconsciously cave in, and be disappointed with the race. In 2003, I adjusted my focus to simply give everything I had that day through to the finish line. Sometimes that meant terrific races like overall victories, 9th overall at USAT AG nationals in 2003, 9:10 PR for at the 2005 Ironman Florida. Other times that meant making the best tasting lemonade I could out of the rotten fruit dealt to me on the day – such as nabbing a Kona slot at IMCdA in 2011 while hacking up a lung or two and taking my last antibiotic dose at mile 80 on the bike. Simply finishing Kona in 2004 a super windy day, my HR monitor didn't work, and I went too hard on the bike – but after walking miles 4-6, I resolved to run the rest of the way – and did. That race was simultaneously both one of my slowest and most satisfying races ever. I burst into tears at the finish line simply because everything had been spent both physically and most especially mentally. So rarely do things go "perfectly" in racing – especially at the Ironman distance. I'm 0 for 17 for "perfect" Ironmen. But I've learned that giving everything I can – regardless of the result – means I've done the best I possibly can that day. And I've also learned that when I succeed at giving it everything, I often do quite well in the results, too. I'd call that a win-win!
RW: How have you managed to stay healthy, fresh, and motivated for such a long time?
CR: Healthy. Good one. I'd say being a physical therapist has been crucial to my competitive ability as I've had too many strains and tendinopathies to even count. In 2000 I had a cardiac ablation to resolve a heart condition (Wolfe-Parkinson-White) which could have been fatal. In 2005, a suicidal squirrel lodged itself in my front wheel, resulting in a dead squirrel, torn rotator cuff and labrum, and broken bike 6 weeks before IMFL. That took the pressure off, and I PR'd in IM. I had shoulder surgery in Jan of 2006 to repair all that, and then set my course record in Kona of 9:25 10 months later.
2007 was going to be my banner year. Instead, I tore my calf 3 times, nearly resulting in retirement from the sport – I was tired of "coming back". But eventually the tri-bug returned and as I was finally getting back into decent shape, when the initial signs of Multiple Sclerosis (MS) began. I became physically a shell of the athlete I had been just a few weeks before. I needed a nap just from getting the mail. I have never experienced anything like that, and hope I never will again. Facing the distinct possibility of needing a wheelchair was both terrible and terrifying. Getting back to the road of fitness again, I first credit goes to my wife, and second to triathlon. The training required getting back into shape to toe the start line of an IM, and the desire to cross that finish line again, motivated me like just as it had through so many other injuries in the past.
The 2011 IM World Championships was the first disappointing race I had had since making that mental shift in 2003. I had really gotten in good shape, and a stomach bug propelled me to the tour-de-Portopotty – 11 stops by mile 12, and forced me to walk for miles. In the car on the way to the airport I asked her why I kept wanting to come back to Kona, as I was 1 for 5 in good results there. She simply said, "It's in your blood." And I suppose, there you have it.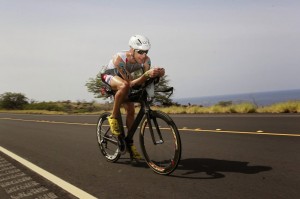 RW: You were recently diagnosed with multiple sclerosis. What would you like our readers know about the disease?
CR: Mostly that MS is a disease that affects everyone differently. It can affect anything that your nervous system controls – which, it turns out, is quite a bit. Someone with MS essentially faces the aging process in a different way from those without it. One can predictably know that as you age, you will become weaker, your endurance will fall, memory will likely worsen, thinking will become more clouded, your risk for falling will increase, etc. There are things you can do to minimize the loss – exercise, play chess, read, practice your balance. Someone with MS faces those same things, but in addition, they face the knowledge at they might lose that same something in the next month, rather than across the next decade. Or they might not. The mix of that knowledge with that uncertainty forms a paradox – it can be both terrifying and motivating. What will I lose next? Coordination? Memory? Vision? Senility? Strength? Digestion? Control over the muscles for speaking? The ability to walk?
I cannot understate the importance of taking charge of body – whether you have MS or not. If you want to be active when you're 80, you better be active when your 40. As someone who has MS, I feel the best defence is maximizing my capacity now. Not starting next week, not starting next year. Start today. Stretch more. Exercise more. Eat healthy. Read. And did I mention start now? It is the unpredictable nature of MS that makes it such a frightening disease. I dread the idea that, statistically speaking, I will find myself in a wheelchair within 20 years – age 60. That thought absolutely terrifies me, but also keeps me motivated to keep working hard. If you yourself have, or care for / about someone with MS, get them moving and actively involved in taking care of themselves. They will eventually thank you – really.
RW: You have put in some very impressive performances recently, including earning a slot to the Ironman World Championships. How does your condition affect your training and ability to race?
CR: I have been incredibly fortunate thus far in that I primarily have sensory issues – buzzing in the hands; a sense that sandpaper is being constantly rubbed on my wrists; electric zaps down my back, arms and legs when I nod my head; and most especially fatigue – with the associated irritability that comes with really needing a nap now.
RW: One of your goals at the Ironman World Championships was to best your 117th overall place in 2006, but the more important goal has been to raise awareness of Multiple Sclerosis. How are you going about this? How can our readers help?
CR: I have put together a blog to enable folks to follow my adventures. Part of my goal has been to motivate those with MS to strive for the impossible, because in striving for it, one may find it becomes possible. I know that qualifying for the Ironman World Championships is not easy. At the risk of tooting my own horn, I know that I have talent in the world of triathlon. I also know that this year may have been my last – not because I won't want to go back, but because MS may take that away from me.
Research is needed to further develop the best strategy to combat this disease. Recently, research found exercise to actually be more effective than any medication out there in the treatment of various heart conditions. The researchers suggested that all future medication research should be compared to exercise to determine if efficacy is actually better than exercise. Numerous studies into diabetes mellitus, attention deficit disorder, hypertension, and MS have found that exercise is paramount to improving function. Research also finds that fewer than 20% of those with MS actually get the exercise they need – not to mention that 60% of Americans are overweight, with 30% being obese. If I can motivate one person – with or without MS – to get off the damn couch and get started exercising, well, I cannot tell you how happy that would make me.
In particular, I have set up a fund raising effort, through the Ironman Foundation, to raise money to investigate athletes with MS. To date, there is not a single study in the world looking at athletes with MS. The Oregon Health and Science University (OHSU) is in the process of putting together a pilot study into exactly that. To date, an amazing group of people, including my employer, Therapeutic Associates Incorporated have donated over $14,000 to support this effort. To say I am overwhelmed is an understatement, but this will fund only a miniscule amount of the actual study, which often cost in the hundreds of thousands of dollars. Through November 10th, 2014 at bit.ly/11jTDEA (again, case sensitive). After that, I will likely have a new fund raising effort that can be found via my blog. I cannot thank those who have donated enough. You are my personal heroes.
RW: You have used Restwise as a coach and athlete for a couple of years. First, how has it helped you as a coach? Has it helped you manage the challenges of an intensive training program while coping with the effects of MS?
CR: From a coaching perspective, I have found the tool invaluable. I can setup alerts to tell me when my athletes fall below a certain threshold of readiness for the days workouts. I have found that each athlete differs in terms of what that threshold is, but in general it hovers in the 50-60 range. It does depend exclusively on the honestly of athletes. Just like a training log, it is easy to dupe the reader. Fortunately for me, my athletes have been quite honest (making them easier to coach, certainly!). I also find that I need to take the exact point of the season into account. Someone I might let get to 60 during any normal part of the season might be allowed to fall as low as 50 during a hard-core training phase. But amazingly, that number doesn't deviate a whole lot – regardless of periodization. An athlete how is training hard is partly able to do so because they recover well. Failure to do so means needing to take a day off.
As for my own training, I fall into the 60 range. Below that, I need a modified day, and below 50 I need a day off. Failure to do that inevitably results in illness for me. I've used Restwise since the fall of 2010, and it has been remarkably consistent. It has also enabled me to be more attentive to certain aspects of my health (namely resting HR and weight) with which I might not otherwise have been nearly as in-tune. I have found that my weight has trended down across the last 3 years – something notable given that I am currently 6'1" and about 150 pounds – I don't have much to lose! But mostly, I find that my use of Restwise as an athlete with MS is not much different than an athlete without MS. My ability to train is certainly affected by MS, but my readiness to work out on any particular day is simply my readiness to work out on any particular day – regardless of the MS. Some days you just have to roll with the punches and take a nap instead.
Speaking of which – time for bed. Thanks for reading, Restwise, and good night!