Today's post is an interview with long-time Restwise coach Ben Greenfield whose recently published book Beyond Training: Mastering Endurance, Health & Life became a New York Times Best Seller. Ben took some time out of his insanely packed schedule to answer a few questions for us.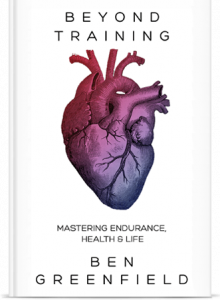 RW: Ben, first of all congratulations on the success of Beyond Training! There are a lot of books on training and healthy living, but yours obviously struck a chord. What need were you trying to address in writing Beyond Training?
BG: Ironically, people who appear to be fit and healthy on the outside struggle with health and lifestyle issues like insomnia, gas, bloating, low libido, aging too fast, injuries, performance plateaus, brain fog and a basic lack of time for career, family, and friends. Despite being incredibly fit " on the outside" I personally tested my own blood levels two years ago and tested high for cortisol, inflammation and other markers that showed if I kept doing what I was doing I wasn't going to be around to see my grandkids. So I started research how to be both healthy on the outside and healthy on this inside. So this book supplies a step-by-step, done-for-you guide for exercise enthusiasts to eliminate all the issues that tend to plague you from recovery to lifestyle to training and let you get the most out of life while still achieving amazing feats of physical and mental performance.
RW: Your book covers a lot of ground and balances information for different audiences. What are some of the principles of training at the elite level that you wanted to bring to the weekend warrior, the stressed executive, or the person getting off the coach for the first time to train for a 5K?
BG: Honestly, much of the concepts in this book aren't really from the elite level because many folks training at the elite level have plenty of time to train and recover properly (not that they all do!) But I primarily wanted to give the average person who is simply an exercise enthusiast (or as you say, weekend warrior) the fastest and most efficient ways to achieve goals using a minimum effective dose that leaves time for career, friends and family. Sure, this means that the reader might find themselves learning things like how to implement cold thermogenesis or easy ways to make bone broth or even how to implement biohacks like electrical stimulation and Chinese meridian tapping, but that's better living through science!
RW: Some of the ideas in this book fly in the face of conventional wisdom. What are a few of the biggest misconceptions about training, diet, or health in general that you feel this book sets straight?
BG: Let's start here:
1) The best way to build endurance is to slowly build miles and volume (it's actually to elevate mitochondrial density, which is best done through intensity and weight training)…
2) A "bonk" is due to running out of carbohydrates (it's actually low blood levels of amino acids combined with core temperature dysregulation)
3) Working out in your fat burning zone is the best way to build fat (it actually slows your metabolism to do this)
4) Ketogenic, low-carb diets work well for fat loss (they don't – although they do amp up diaphragm and heart muscle tissue fuel)
5) High-rep, low-resistance weight training is ideal for building muscular power, strength and endurance for "going long" (it's actually the opposite – quick, explosive heavy lifting)
RW: If we had a lot more space, I'd love to delve into each of these, but instead I'll point interested readers to your book instead. You have completed 10 Ironman triathlons yourself and have coached who-knows-how-many other Ironman finishers. What are some common mistakes you see triathletes make?
BG: If you're swimming, cycling and weight training, you only need to run twice a week to be a fast triathlete runner. Most people run way too much. Short frequent swims (e.g. 10-15 minutes 4-5x per week) are much better if you have convenient access to water compared to long morning Master's swims, etc. Indoor bike training is a huge underutilized training tool, but allows you to get nearly 30% extra volume and/or intensity due to the time-saving aspects. And finally, if you're not testing your blood markers or quantifying recovery in some way, you will be in the complete darkness about whether or not you're going to get sick or injured and I can't tell you how many Ironman athletes come to me race week extremely desperate because they all of a sudden have a cold, flu or injury we could have identified and eliminated long before it happened.
RW: One of the trademarks of your approach to training is balance. As such you devote a lot of time in the book to recovery. What key advice would you give to triathletes about incorporating recovery into an overall approach to training?
1. Choose at least one qualitative and one quantitative marker per day and track it. The best place for beginners, in my opinion, is the qualitative value of sleep and the quantitative value of heart rate variability. I discuss both extensively in my book.
2. You have a limited number of stress "points" per day. Exercise is just one way to use up those stress points. A poor relationship with your loved one is another. Being lonely is another. Work stress is another. Eating a food you are intolerant to is another. You can easily use up most of your stress points without even working out, and have very little left to devote to training. That's why a huge part of my book focuses on practical ways to reduce stress in all these areas.
3. The workout doesn't stop when you walk in the door from the workout. I will finish a workout, then move on to things like deep breathing, cold therapy, compression, inversion, antioxidants, etc. Fortunately, all this stuff can be done while you're – say – watching a documentary or replying to emails. You just need to know what to do and how to do it. So read the book.
RW: What's next for Ben Greenfield?
BG: I'm currently training to podium as a top obstacle racer in Spartan races. So lots of climbing over walls, throwing spears, dragging cement blocks, flipping tires and running through mud and crawling through my forested backyard. I've also recently been named to the board of advisers for ThorneFX – which I consider to be one of the highest quality supplementation companies on the face of the planet. I'm going to help them develop new formulas for athletes. So those are the big things. And of course, floating the Spokane River with my wife and twin boys.
RW: Again, it's all about balance! Good luck with all of this, and thanks again for taking the time to share your ideas with us.